32 Shots: Week 8 NFL Power Rankings
Week 8 Power Rankings. Which @NFL teams made moves during week 8? It's all here.
As the NFL moves into Week 8, we recap where every team ranks in relation to the rest of the league and discuss the key stories surrounding their respective seasons.
1. Kansas City Chiefs (6-1)
MaHomeboy and Dem.
After an easy 43-16 win over the Denver Broncos, it's tough not to put the Chiefs at the number one spot. Securing wins like this where Pat Mahomes barely has to break a sweat and gets to let his backup QB Chad Henne get some burn has to make Head Coach Andy Reid happy. Not to mention this was newly acquired Le'Veon Bell's first game with the Chiefs and actually looked like he might have some juice left in the tank. The league was clearly put on notice last year when Mahomeboy and company won it all last year, but coming out the gate 6-1 and looking even more explosive is a scary thought.
2. Baltimore Ravens (5-1)
I call your Bell and raise you a Dez!
The Ravens, who were off on bye this past weekend, tried to make a roster improvement themselves by signing Ex-Pro Bowl wide receiver Dez Bryant to their practice squad. This can be considered a low risk-high reward situation considering the last time we saw Dez, he ruptured his Achilles during his first practice with the Saints. It's yet to be seen if Dez still has some juice left or not, but if the Ravens can find any magic out of him, it would make their heavy run attack even more explosive via the play-action pass.
3. Tampa Bay Buccaneers (5-2)
Going All In!
On the eve of traveling to Las Vegas to face the Raiders, the Buccaneers decided to push all their chips in by signing ex Pro Bowl wide receiver Antonio Brown. Antonio Brown has been missing from NFL action for over a year due to some off the field troubles. The last time we saw Antonio Brown playing, he was catching passes from Tom Brady with the New England Patriots but was soon cut after that. Now here, Tom Brady gets to reunite with a receiver he calls a close friend in what is already a deep offensively talented team. The signing comes at a unique time where current Buccs receiver Chris Godwin had finger surgery and just one game out from AB's 8 game league suspension being complete. Despite all this activity, the Buccaneers were able to cruise to victory against the Las Vegas Raiders and continue to put fear in the minds of teams around the league. As good as they are, they may have just leveled up a notch.
4. Pittsburgh Steelers (6-0)
Last men standing.
After Week 7, the Pittsburgh Steelers are the lone undefeated team in the National Football League. However, when you take a deeper look into their early-season success, you have to question the caliber of teams they've played so far, with only 2 wins coming against teams above .500 (Browns and Titans). The combined record of the other four opponents is a measly 4-19-1. Next up for the Steelers? Lamar Jackson and the Baltimore Ravens and what should be a classic slugfest between two divisional foes. Big Ben and his plethora of receivers, along with the Steelers 6th rank scoring defense, will need to prove that they can hang with the NFL elites on a week-to-week basis, to be taken seriously.
5. Tennessee Titans (5-1)
Wide Right!
In what was pegged as one of the week's marquee games with two unbeaten teams squaring off, the Titans end up coming up short and fall to 5-1. By the middle of the 3rd quarter, the Titans found themselves in a 27-7 deficit. They didn't look like they were going to be able to match the physicality of the Steelers. But to their credit, they battled back to score 17 unanswered points but failed to tie the ball game to force OT with 19 seconds left. Stephen Gostkowski, a surefire Hall of Famer based on his previous Super Bowl-winning Patriots career, missed a kick he usually would make. With him struggling all season, one has to wonder if the Titans also look to make some upgrades before the trade deadline to bolster the kicking department. It would be a travesty to get knocked out of the playoffs due to a missed kick.
6. Green Bay Packers (5-1)
R-E-L-A-X.
Aaron Rodgers infamously told reporters a few seasons ago to "RELAX" after the Packers fell 1-2 to open the season. After that, they ended up losing only two more games that season while having a deep playoff run. He and the Packers channeled that same energy this weekend by looking crisp and efficient in a comfortable win over the Houston Texans 35-20. Overreactions are common in the NFL because it's a week-to-week league, but Rodgers and company still look to be one of the better teams in the league right now. They, too, could be one of a few contenders making splashes via signings and/or trades by the deadline. The Packers, however, are one of the leagues more conservative teams when it comes to midseason additions.
7. Seattle Seahawks (5-1)
DK Metcalf!
DK Metcalf accomplished one of the rarest feats on the NFL stage. Imagine playing a game at wide receiver, only having 1 catch in an overtime thriller, but still managing to highlight the game: on the stat sheet that highlight will just be solo tackle. What had happened was . . . DK sprinted 85 yards, where he reached nearly 23 mph, chased down Budda Baker to prevent a would-be pick 6. While there are no such things as moral victories, the Seahawks sure can look at that play and use it as a concrete example of never quitting on a play. The silver lining for the cardinals is that they were probably not going undefeated. Now, the NFL Seahawks can chalk this loss up to the Cardinals as one that got away but moving forward, they have to find ways to stop teams from scoring. Giving 28.7 points per game (22nd rank in the league) will put their super bowl hopes in jeopardy.
8 .New Orleans Saints (4-2)
Still marching!
Despite not having all-pro wide receiver Michael Thomas (for the 5th game in a row) and missing fellow wideout Emmanuel Sanders, the Saints managed to defeat the Carolina Panthers 27-24. Most teams heading into a situation where they are missing their two best perimeter weapons would struggle. At times the Saints did. The Saints staved off the gritty Panthers and rallied towards a much needed divisional win. At this juncture in the season, the Saints' main concern is Drew Brees's ability (or inability) to throw the deep ball. Additionally, after missing a few games due to an ankle injury, Michael Thomas, all of a sudden, is battling a hamstring injury putting his weak 8 game status in jeopardy. The veteran leadership of the Saints seems to keep finding ways to win.
9 .Los Angeles Rams (5-2)
Special Teams Matter.
Normally quarterbacks, running backs, wide receivers, and sometimes defensive players get all the praise and glory. But on Monday night Johnny Hekker's punting display really was a real highlight and a significant reason why the Rams defeated the Chicago Bears 24-10. The NFC Wild Wild West is currently the most stacked division, which is exacerbated by the fact the Rams improved to 5-2 but sit at 3rd place within the division. With additional matchups against the Seahawks, 49ers, and Cardinals, the Rams will need to continue to play efficient football by getting help from their special teams similarly to Monday night. With the tread deadline approaching, the Rams could also be searching for a piece or two, losing a rookie stud safety Terrell Burgess to a broken ankle. Next up, the Rams will be back in the spotlight this week, being the first team to face rookie QB sensation Tua Tagovailoa and the Dolphins in Miami.
10. San Francisco 49ers (4-3)
Coaching Matters!
Hats off to Kyle Shanahan and his coaching staff. The 49ers have been ravaged with injuries all season. They have now played 69 totally different players in their respective 7 games, most in NFL so far to date. These guys are finding ways to win ball games, and it's a credit to their coaching staff getting the next man up. Things aren't going to get easier after smacking the helpless Patriots on the road this past week when they square off against the NFC West Leaders Russell Wilson and the Seahawks. All divisional games matter, but this one has significant weight because at 4-3 (last place in the NFC West), the 49ers cannot risk falling too behind in that loaded division. Luckily for them, the Seahawks struggle on defense, which may be the perfect time to catch them slipping.
11. Arizona Cardinal (5-2)
Match made in heaven.
QB Kyler Murray and HC Kliff Kingsbury were able to pull off one of the more exciting overtime win in recent memory. In a flexed game to Sunday nights marquee time slot, it lived up to the billing. Two teams that are struggling on the defensive end but have high powered offenses with quarterbacks that are playing lights out proved to be one of the more entertaining games of the early season. With the win, the Cardinals have secured their best 7 game start since 2015. Now sitting at 5-2 heading into a bye week, one has to assume they also may be buyers as the trade deadline approaches. Seeking to sure up their defense or address their more recent running back injury.
12. Indianapolis Colts (4-2)
Eyes on the prize.
While getting the week off, the Indianapolis Colts saw their divisional foe Tennessee Titans lose their first game of the season. Moving them one step closer to the AFC South's number one spot. Phillip Rivers gives them a legit shot at not only making the playoffs but possibly making a deep run. Especially when you consider their defense that has quietly given up the 2nd fewest yards per game this season and 4th fewest points per game. A product of these impressive defensive numbers has a direct correlation to the offenses and quarterback talent they've played so far. Nonetheless, they will get their opportunity to indeed prove themselves in the next few weeks facing off against the Ravens, Titans, and Packers.
13. Buffalo Bills (5-2)
Shots fired!
Apparently, the Buffalo Bills believe the New York Jets and Giants do not exist. But nonetheless, after coming out the gate winning their first 5 games and then losing 2 straight games, facing off against the winless Jets was an easy get back right game. But they cannot get too excited about an 18-10 victory against a winless Jets team. So, Buffalo has to show they were worth the hype at the beginning of the season against what could be considered a trap game versus divisional rival the New England Patriots. QB Josh Allen's early MVP hype has quickly faded, so we shall see if early-season losses to the Titans and Chiefs were just blips on the radar.
14. New England Patriots (2-4)
Scam Newton?
Ladies and gentlemen, the New England Patriots are now 2-4 and have lost two games straight at home. This has been the 1st time since 2008 the Patriots lost back to back home games. This was the first time the New England Patriots lost three consecutive games since 2002, a span of 286 straight games (a NFL record). Right now, the struggles and blame can be directed towards QB Cam Newton's way, who struggled again with overall sloppy play, throwing 3 interceptions. Quite frankly, since his return from his COVID-19 stint Cam has been the worst passer in the NFL ( posting a 43.2 passer rating since week 6; 29th of 30 qualified QBs). Bill Belichick has given him the vote of confidence moving forward, stating that he's their starter moving forward. Still, Cam openly admits if he continues to play this poorly, his job is at risk.
15. Chicago Bears (5-2)
Back to the drawing board.
Coming into Monday nights showdown versus the Los Angeles Rams, the Chicago Bears we're looking for the NFL world to respect their name. Despite being 5-1 at the time, there were concerns about the actual validity of the team. And on the national stage, they fell flat on their faces. Their lone touchdown in the game came in the form of a defensive score. Where safety Eddie Jackson scooped and scored a fumble recovery that ultimately made the game look more respectable than it actually was. During the broadcast, one thing to note was when the commentators mentioned how Nick Foles said in a pregame interview that when Head Coach Nagy calls plays, he's pretty sure the plays aren't going to work due to timing issues with the offense. Sentiment and comments like that don't bode well for the overall prospects of this team moving forward.
16. Cleveland Browns (5-2)
The Baker bounces back!
In what has been coined the Battle of Ohio, the Cleveland Brown defeated the Cincinnati Bengals 37-34 to move to a surprising 5-2 to start the season. After looking like a shell of himself last week against the Steelers, Baker Mayfield responded to the haters by throwing 5 TDs. All of which without the help of elite wideout Odell Beckham Jr. who suffered a torn ACL early in the game (which he ironically suffered chasing down a defender after an early game interception by Baker). Tough seeing Baker playing this week rest of the season without OBJ, but the ball is in his court to show and prove he belongs in the elite tier of young QBs in the league.
17 .Las Vegas Raiders (3-3)
The Back and Sliver Lining.
Coming off an impressive win against the Kansas City Chiefs, the Las Vegas Raiders had to be feeling good about themselves. Still, everything went left when starting right tackle Trent Brown tested positive for COVID-19 during practice last week. Due to contact tracing, the remaining starting offensive linemen were placed on the COVID-19 injured reserve list. Luckily for the Raiders, despite being quarantined throughout the week, those four were cleared to play Sunday morning. However, they clearly found themselves under-prepared and not ready to handle the Buccaneer's top rushing defense. The Raiders managed to stay afloat for the first 3 quarters but eventually got outplayed, losing 45-20. This could be considered the 2nd game a team has lost due to COVID-19 related issues. The first being when the New England Patriots lost their first game of the season when Cam Newton missed the game due to COVID). Will this have a lingering effect on subsequent games?
18. Miami Dolphins (3-3)
This is it!
At this point, we've all heard the news that Miami Dolphins have decided to start rookie QB Tua Tagovailoa. It came to much surprise because the Dolphins were actually starting to play well under now benched Ryan Fitzpatrick. But on second thought, this may be the best time to see what they have in the young quarterback. As other teams begin to position themselves for the upcoming NFL draft, where there are some surefire young QB prospects, it would be devastating for the Dolphins to miss on Tua and then subsequently miss out on the Trevor Lawrence or Justin Fields sweepstakes. So, in theory, it makes sense to see what the kid has early. 1st test the hot Los Angeles Rams and Aaron Donald chasing down your number one pick. Good luck!
19. Denver Broncos (2-4)
Put up or shut up!
Falling to the Kansas City Chiefs 43-16 was universally expected. The now 2-4 Broncos we're not likely to be a contender this season. But internally, we're sure they did want to see some promising moments to build upon moving forward. That promise was supposed to come in the form of QB Drew Lock. This week would be the perfect week to have a bright spot in what could be a rivalry for years to come against the Chargers and Justine Herbert. Failing to hold their own against this Chargers team will be a massive indictment. It could be the signal for them to start planning for a different future Lockless future.
20. Carolina Panthers (3-4)
Meh.
Another week, another loss. In what was considered a revenge game for QB Teddy Bridgewater, the Carolina Panthers fell short of the upset, falling 27-24 to the Saints. It's not rocket science to suggest a team will struggle more often than not without their best player. And considering Christian McCaffrey hasn't played for a few weeks, it's not surprising to see where they stand now.
21. Houston Texans (1-6)
Houston we have a major problem!
It was pretty much expected that Houston Texans would fall to the Green Bay Packers this past week, but some were hoping to see a little bit more of a fight. The now 1-6 Texans are a complete shit show due to ex-GM/Head Coach Bill O'Brien's bad trades and roster decisions. At this point, it's time to begin the rebuild, and the trading of critical assets rumors have begun. Is JJ Watt going to be traded? How about Will Fuller? How quickly and how dramatic the rebuild will come to light as the trade deadline approaches.
22. Philadelphia Eagles (2-4-1)
Hey, a win is a win!
In a game they were supposed to win easily, the Philadelphia Eagles managed to put together a game-winning drive in the 4th quarter to narrowly beat the Giants. But even in victory, the Eagles find a way to lose another key player to injury. In Desean Jackson's first game action after battling a hamstring injury the last 3 weeks, he, unfortunately, exited the game with a non-displaced ankle fracture. But with this victory, the Eagles now put themselves in the driver seat regarding the NFC East, with a massive showdown with the Dallas Cowboys next week.
23. Dallas Cowboys (2-5)
They need some milk.
Things could not get any worse for the Cowboys after a couple of terrible losses along with a devastating Dak Prescott injury. But leave it to the Cowboys to prove everybody wrong. They hit a new low this season by getting shellacked by the Washington Football Team 25-3. The overall team looked as if they quit on Sunday and were ready to go home as soon as the opening kick. Their issues can be summed up by their lack of defense. They are allowing over 400 yards per game and a league-high 34.7 points per game. But there are also questions about the locker room and the leadership or lack thereof. Cowboys have proven to be the league's weekly soap opera and will continue to leave us scratching our heads. Despite everything that has gone wrong so far this season, the Cowboys, fortunately (or unfortunately, depending who you ask) still have a shot at the playoffs.
24. Detroit Lions (3-3)
They Lion.
It would appear these cats have life. In what was a very improbable win, the Detroit Lions managed to defeat the Atlanta Falcons by going 75 yards, with just 64 seconds left on the clock to score a game-winning touchdown. The win moves them to 3-3 on the year. Even as a middle of the road team, the Lions feel pretty good about themselves. So much so that they decided to double down on themselves and secured former Pro Bowler Everson Griffin via trade to help improve their defensive pass rush. Time will tell if they are right about themselves. Facing a quality Indianapolis Colts team this week will be the perfect test.
25. Atlanta Falcons (1-6)
Creatures of bad habits.
The Atlanta Falcons have done it again, blown another lead. Let's take a walk down memory Lane for a second. Up 28-3 in the Super Bowl in 2017 with 2 minutes left in the 3rd quarter, the Falcons found a way to blow that lead and lose in dramatic fashion 34-28. That, unfortunately, was the start of what could be described as the ugliest habit in the NFL. Fast forward to Week 2 of this year. The Falcons blew a 29 -10 lead in a 40-39 loss to Dallas. The very next week, they blew a 16 point lead in the 4th quarter to lose 30-26 to the Chicago Bears. And this past Sunday, after a failed attempt to run out the clock and attempt a game-winning field goal, they somehow managed to actually score accidentally, which gave the Lions a chance to win the game. To the Lions credit, they subsequently did, defeating the Falcons 23-22. You can't make this stuff up!
26. Minnesota Vikings (1-5)
Now what?
On a bye this past weekend, the last time we saw these Minnesota Vikings, they lost to the now 1-5 Atlanta Falcons. Up next, the streaking Green Bay Packers at 5-1. Another loss pretty much eliminates any chance for the playoffs. When do they decide to call this season a wrap and begin to tank for Clemson's Trevor Lawrence or Ohio State's Justin Fields?
27. Los Angles Chargers (2-4)
5th times the charm!
In his 5th start, rookie quarterback Justin Herbert finally got his first NFL win moving the Los Angeles Chargers record to 2-4. Despite losing his first four starts, Herbert, unlike some of these other young rookies and second-year quarterbacks around the league, has shown some promise and has been the lone bright spot to what can be considered a very disappointing season so far for the Los Angeles Chargers. The Chargers hope to continue stacking success and building momentum in a very winnable game against divisional foe Denver Broncos this week.
28. Cincinnati Bengals (1-5-1)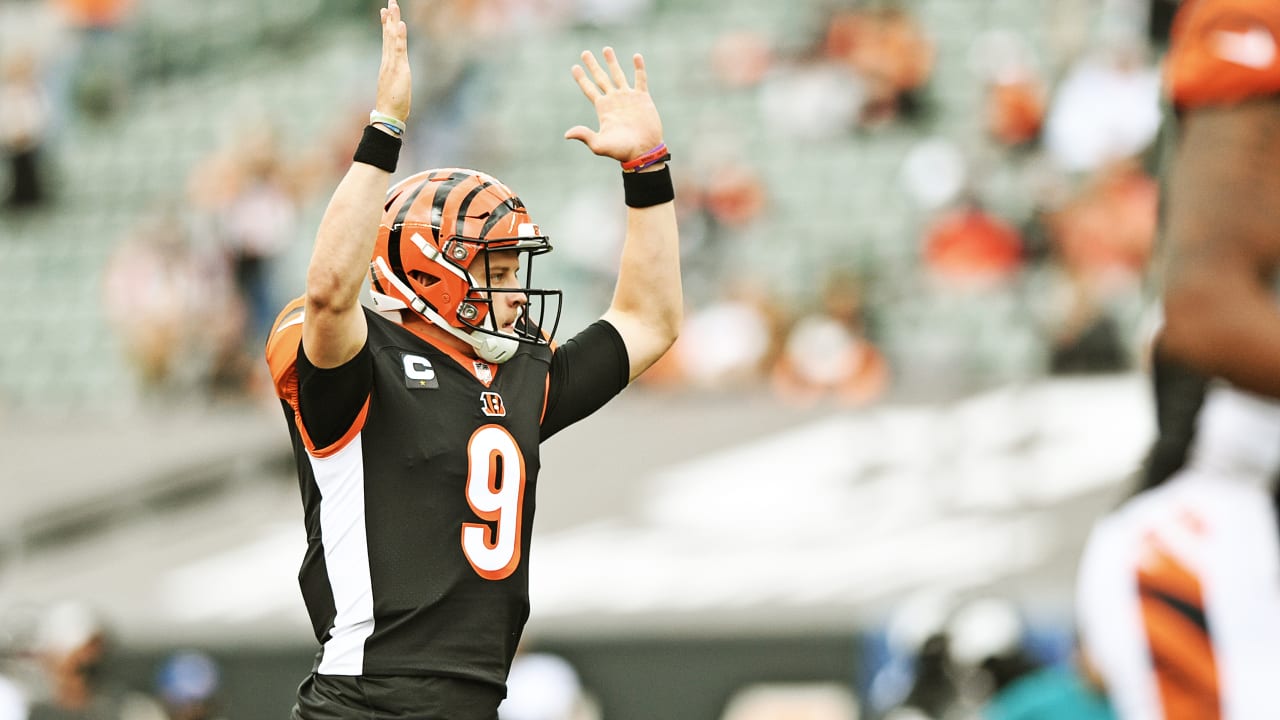 Look at the bright side
After falling to the Cleveland Browns 37-34 and now sitting at 1-5-1, it's tough to imagine how anyone can call this season success. However, Joe Borrow continues to impress and put up quality numbers after his final collegiate national champion season. Clearly, playoffs are not in their immediate future for the Bengals, but if they continue to build around this young man, this franchise will have better days.
29. Washington Football Team (2-5)
Double Victory Mondays
This past Sunday, the Washington Football Team essentially dug the knife in the Cowboys season proverbial heart a few inches and decided to twist it a bit while there too. But more importantly, the victory celebration was not boasting about beating their rival but instead their Head Coach Ron Rivera finishing his last cancer treatment on Monday. Congratulations to him and his family. The man never missed a game as he silently fought his battle with cancer, with his head held high the entire time.
30. New York Giants (1-6)
Sniped!
They say a picture is worth a thousand words, and this picture of Daniel Jones falling on his face pretty much sums up The New York Giants season. Unfortunately for Jones, this lowlight will live on for a long time coming.
31. Jacksonville Jaguars (1-6)
Two Words: Trevor Lawrence!
The Jacksonville Jaguars fell to the Los Angeles charges 39-29, making this their 6th consecutive loss this season. In this defeat, they actually made the wrong kind of history by becoming only the 3rd team in NFL history to allow 30+ points in 6 consecutive games in a single season. Some figured this season would be a struggling season when they shipped out their best players and rounded out the roster with no-name guys. And it looks like the Gardner Minshew experiment is coming to its end, ushering in the way for what many suspects to be the Trevor Lawrence show. Now heading into the bye week, there are now questions about head coach Doug Marrone's job security. And at this point, why not get an early head start on the coaching search?
32. New York Jets (0-7)
649 days and counting….
For those counting, it has been 649 days since Adam Gase was hired as the New York Jets football head coach. And it has been 649 days too long.
Parris Shannon writes about Sports and Pop Culture for Black With No Chaser with the occasional think piece sprinkled in his repertoire. He currently resides in Washington, D.C but comes from Philadelphia, PA by way of Atlanta, GA so can probably catch him saying "jawn" and "shawty" in the same sentence.